Welcome to the Bittersweet Candy Bowl Fan Wiki!
Edit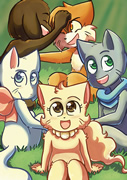 This is a wiki all about Veronica "Taeshi" Vera's webcomic Bittersweet Candy Bowl.
The Story
Edit
Bittersweet Candy Bowl is essentially a high school drama-comedy, or "dramedy". It follows a group of friends from middle school to junior year, and focuses on the relationships between each character. Lucy, Michael, Paulo, Daisy, and David grew up together at the same schools, and in the comics posted on the website you will see the most interesting years of their school days.
There are a lot of small plots about everyday things the characters engage in (which could be called "slice of life".) The more drawn-out ordeals depicted in the comic concern the introduction of characters like Abbey and Augustus, Lucy's ongoing struggle to figure out what she really thinks about Mike, Daisy's deliberations about her self-image, and Abbey's efforts to confront family issues from his childhood. The comic is written in chapters: it is most rewarding when read in depth, as each storyline builds upon another.
The Website
Edit
Veronica "Taeshi" Vera draws the comic. It is posted every weekday: Mondas, Wednesdays, and Fridays, with one new page posted on each these days. The pages together form a chapter and the number of pages can vary. These chapters form arcs, and are punctuated by intermissions.
The Comic Site is administrated by Oliver "SuitCase" Bareham. He attempts to fix issues with the server, periodically re-designs the layout, and moderates the forums.
The site is divided into several sections:
Archives: All the comic pages are hosted here, from the first chapter to the newest page.
About: Shows a list of the characters of the comic, showing their name, age, birthday, first appearance in the comic and a short description of them.
Forum: The Comic forum is hosted here, any user can post new threads or add a comment to an existing one. There are many topics created by the users. All the threads must be sorted by a specific topic. This can be:

General: General discussion can be posted under this topic.
Comic: Discussions about the comic can be posted here.
Question: Questions about anything (comic, site, etc) can be posted and solved here.
Drama: Discussions about drama relation (comic pairings, personal drama etc) can be posted here.
Romance: Discussions about romance relation (pairings, personal questions/comments about romance etc) can be posted here.
Art: The art of the users can be posted and discussed here.
Politics: Topics about politics in diferent countries can be posted and discussed here.
Media: Videos, music and more can be posted and discussed here.
NSFW: All NSFW (Not Suitable For Work) material must be posted here.
Website: All questions, suggestions and issues with the site must be posted here.

Store: The store has many items that fans can buy.
Gallery: The gallery is an image hosting site used by fans and Veronica and is shared by the community. This may contain pairings, drama, love, hate and many other. NSFW works are not allowed here.
Extras: As its name suggests, this page contains the extras of the comic/site:

Links: Author's favorite webcomics
Graveyard: This section contains a number of comics that were part of the original storyline and eliminated in the November 2009 site\comic refresh. These are all actually canonical, just of such low quality that they're no longer allowed in the proper archive
Other Things: Webcomic features at TvTropes, a character quiz and several webcomic indexes in which Bittersweet Candy Bowl are listed.
History: This is an explanation of where the ideas for BCB originated. It shows the comic's development from hand-drawn doodles to a fully-fledged comic. Worth reading if you are curious.
Latest activity
Edit